When storing items in a unit, you can get your most bang for the buck by storing vertically; place your items on shelves.  That said, there is a right way and a wrong way to do it to ensure your experience is successful.  As we said in our 'storage tips' page, one key is to maintain airflow.
The best way to do that is by using plastic shelving.  These provide open space between stored items, they are not subject to mold, mildew or rust, and are usually the cheapest and lightest options when you have to purchase them.   They can be arranged so you can walk into the unit and access items on the shelves, and can subsequently be used in a garage or  basement when you are done with your unit.
Other things to remember are to keep cardboard boxes supported individually.  We recommend plastic boxes; this deters mold and mildew.  Plastic boxes allow you to stack boxes without shelves as they minimize damp conditions that create box structure failure, but that is not always feasible.  Use of shelving allows you to  deter the impacts of cardboard use when it can't be avoided and still allow storing vertically.
You can see a picture of shelving used to maximize storage space in units shown below enabling storing vertically.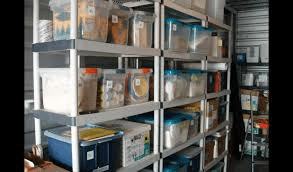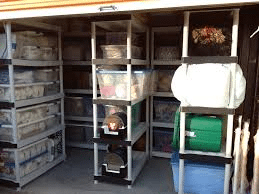 https://oakridgeselfstorage.com/wp-content/uploads/2018/04/storage-with-shelves2.png
194
259
Oakridge Storage
http://simcloud.com/~oakcenter/wp-content/uploads/2017/03/oakridge-storage-solutions-logo.png
Oakridge Storage
2018-05-09 11:28:56
2018-05-10 08:45:56
Storing Vertically - What to know